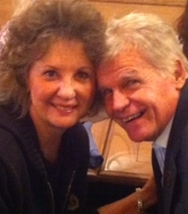 Senior Pastor Gene Arey and Co-Pastor Linda Arey are the founders of Harvest Church International.  A church called not only to service the local community but to take the gospel to the world based on Mark 16:15-18.
They are members of Fellowship of Prophetic Churches and Ministries under the leadership of Dr. Decker H. Tapscott, Sr. Where Gene serves on the board.
Pastor Gene has served as Advisor to the Blue Ridge Area Aglow since 1998.  He served 8 years as President of the Waynesboro/Augusta County Ministerial Association.  He was one of the founding members of the Teen Pregnancy Prevention Coalition in Waynesboro. He has also served as Pastor to the local prison bringing the Word of God to the incarcerated.
Both Gene and Linda have had the honor of opening the U.S. Senate and Congress with prayer.
Pastor Linda teaches at a monthly meeting of Christian Women Fellowship Ministry that reaches all denominations and three counties.
The Arey's travel internationally and have churches in Romania. They have held Pastors and Leaders Conferences there since 1988.  They minister in churches, conferences, and Aglows around the world.
They have a vision to raise people up to walk in the power and authority that God has given them, to preach the uncompromised Word of God, and to proclaim the love of God to the nations.
WELCOME TO
Harvest Church International Christian Center.
We look forward to meeting you, digitally and in person! If you need prayer or assistance, please contact us!